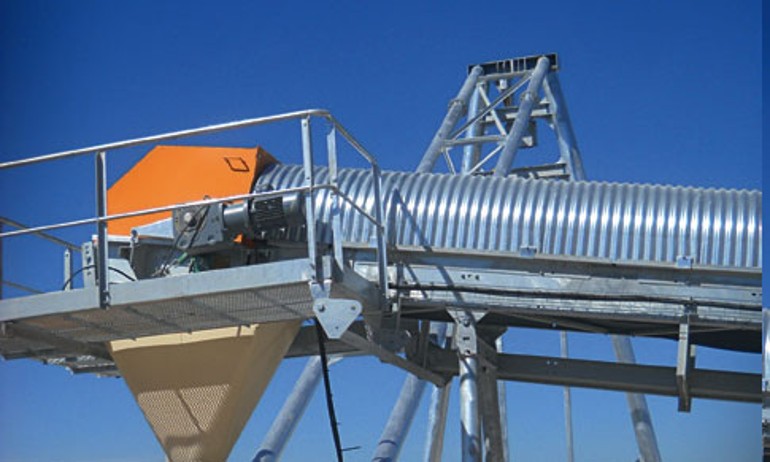 Project Challenge
Durance Granulats, a EUROVIA group subsidiary, operates a quarry in Gardanne in the South of France, where basic components for building materials are obtained and processed. Seeking to increase this site's production capacity, the company turned to SMIL, a metal construction specialist, to commission the design and complete installation of an aggregate processing plant comprising 25 new belt conveyors. The previous, now-obsolete plant was partly demolished and completely retrofi tted in the process.
Exploit more sources. – One key goal for the new installation was to enhance capacities to enable the exploitation of three different sources of material, rather than just one as before. After the completion of the project, sand, gravel, crushed stone, and run-of-mine materials can now be obtained in the quarry itself as well as from a second site 30 km away. These products are primarily used for sub-base and base layers in road construction. The third source is a recycling facility, where materials are recovered from the rubble of public construction projects. SMIL's new conveyor system provides links between the point of arrival of the raw materials, the processing machinery, and the point where products leave the quarry.
Long-life design. – SMIL's belt conveyors required drive solutions that would not only enable safe operation from the start, but ensure reliable performance in the longer run as well. Still, if any motor failures should occur, the drive system had to allow for flexible replacements.
| 번호 | 제목 | 글쓴이 | 날짜 | 조회 수 |
| --- | --- | --- | --- | --- |
| 17 | 0.12KW IEC프리미엄고효율 모터생산 | 아이앤씨모션 | 2015.12.14 | 1405 |
| 16 | NORD _ STEEL IND. 전용 모터생산 | 아이앤씨모션 | 2015.12.14 | 1572 |
| 15 | NORD _ 1단 NORDBLOC.1 감속기 신규론칭 | 아이앤씨모션 | 2016.07.05 | 1812 |
| 14 | NORD _ GEARED MOTOR IN A DESERT CLIMATE | 아이앤씨모션 | 2017.04.11 | 2214 |
| 13 | NORD - DRIVESYSTEMS AT THE HANNOVER FAIR 2018– CONNECTED DRIVES FOR PRODUCTION OF THE FUTURE | 아이앤씨모션 | 2018.03.12 | 2810 |
| 12 | NORD at SPS IPC Drives 2018 | 아이앤씨모션 | 2018.11.29 | 2835 |
| 11 | 공지사항 내용들어가는 곳#1 | 관리자 | 2015.11.13 | 2836 |
| 10 | NORD _ 태블릿으로 제어가능한 모터 | 아이앤씨모션 | 2015.12.14 | 3146 |
| 9 | NORD 분산제어 시스템 | 아이앤씨모션 | 2016.11.17 | 3864 |
| 8 | NORD_컨베이어 드라이브 | 아이앤씨모션 | 2020.02.21 | 4656 |
| 7 | NORD GEARED MOTORS OPTIMISE CONVEYOR TECHNOLOGY IN QUARRIES | 아이앤씨모션 | 2018.10.23 | 5098 |
| 6 | NORD - NEWS | 아이앤씨모션 | 2019.02.14 | 6211 |
| 5 | NORD LOGIC SYSTEMS | 아이앤씨모션 | 2016.11.23 | 10115 |
| 4 | NORD _ HEAVY-DUTY GEARED MOTORS FOR BULK HANDLING MACHINERY IN TRANSSHIPMENT PORT | 아이앤씨모션 | 2016.08.05 | 19103 |
| 3 | 로그인이 안될시 | 아이앤씨모션 | 2015.12.14 | 30838 |
| 2 | NORD - DRIVE SOLUTIONS FOR THE AIRPORT INDUSTRY – ALWAYS ON THE MOVE | 아이앤씨모션 | 2018.03.07 | 99258 |
| » | NORD _ Mining project | 아이앤씨모션 | 2021.05.24 | 141656 |